You are here:
NRL Campylobacter
National Reference Laboratory for Campylobacter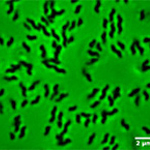 Many warm-blooded wild animals, domestic animals and pets (birds and mammals) are a reservoir for Campylobacter bacteria without showing any clinical symptoms of disease. In humans diarrhoea is one of the main symptoms of the infectious diseases triggered by Campylobacter. In the Federal Republic of Germany, as in other European countries, Campylobacter is one of the most frequent pathogens of bacterial intestinal infections (enteritis). In 2005, the incidence of human Campylobacter infections overtook the incidence of Salmonella diseases for the first time.
Campylobacter infections in humans are largely food-borne. Insufficiently heated or contaminated meat and meat products (esp. poultry meat) are one of the main sources of infection. Other potential sources of infection are non-pasteurised milk, raw minced pork, non-treated drinking water, ingestion of surface water and contact with pets (in particular puppies and cats suffering from diarrhoea).
The National Reference Laboratory for Campylobacter is attached to BfR. The main focus of its work is on typing and differentiation of Campylobacter isolates which come from animals, food, feed, environmental samples and consumer products. Various molecular-biological methods are available for epidemiological studies.
Main areas of the NRL for Campylobacter
The National Reference Laboratory for Campylobacter within BfR has the following main tasks:
Tasks within the framework of the Zoonoses Directive 2003/99/EC
Microbiological and molecular biological diagnosis of Campylobacter spp.
Co-ordination of national monitoring programmes
Organisation of laboratory comparison tests for the qualitative and quantitative detection of Campylobacter in relevant matrices, such as chicken meat/chicken skin, raw milk and chicken feces.
Production of quantitative reference material
Antibiotic resistance testing
Support in clarifying chains of infection
Molecular-biological typing (using MLST, flaA-/porA-sequencing, cpn60, cgMLST and SNP analyses)
Molecular detection of antimicrobial resistance markers of Campylobacter spp.
Rapid detection using PCR and real time PCR methods
Collection of strains
Advice to competent food control authorities