Health assessment of feeds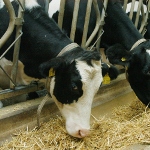 BfR is guided by the "Farm-to-Fork" principle: healthy foods can only be supplied by animals if they receive proper feed. On this basis, BfR also assesses the safety of feeds.
The following needs to be taken into account in this respect:
Undesirable substances in feeds
Feed may contain undesirable substances. They constitute a potential hazard for the health of animals but also for consumers because they enter food (milk, meat, eggs) through livestock. Undesirable substances occur naturally in the environment but can also enter products through processing during feed production.
Feed additives
Feed additives are added to feeds in order for certain purposes such as preventing deficiency symptoms in the animals, achieving higher yields or in order to render feeds less perishable. Feed additives may only be used if they have been properly authorised.
Genetically modified feeds
For the marketing of feeds which consist of genetically modified organisms, contain genetically modified organisms or are produced from genetically modified organisms, special legal provisions apply within the European Union. According to these provisions, these may not pose a higher health risk than comparable conventional feeds do.