You are here:
Maria Sibylla Merian Fellows
Maria Sibylla Merian Fellows
2018: Professor Malcolm Macleod, PhD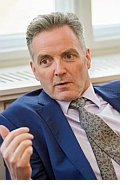 Macleod is Professor of Neurology and Translational Neurosciences at the University of Edinburgh and coordinator of CAMARADES (Collaborative Approach to Meta-analysis and Review of Animal Data from Experimental Studies). His work is dedicated to the reproducibility of the results of studies involving animal experiments and their translation to humans. His research also involves quality assurance in biomedical studies. There are synergies with the German Centre for the Protection of Laboratory Animals at the BfR, where the BfR consolidates all its activities nationwide, with the goals of reducing animal experiments to the absolutely essential minimum, ensuring laboratory animals the best possible protection and intensifying research into alternative methods.