You are here:
Novel Foods
Health assessment of novel Foods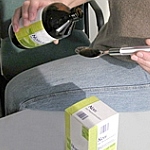 "Novel Foods" are foods and food ingredients that were not yet used on a significant scale for human consumption prior to the entry into force of "Regulation (EC) No 258/97 concerning novel foods and novel food ingredients" (Novel Foods Regulation ) on 15 May 1997 in the European Community and can be classified in one of the following categories:
Foods and food ingredients
with a new or intentionally modified primary molecular structure (e.g. fat substitutes);
consisting of or isolated from micro-organisms, fungi or algae (e.g. oil made from microalgae);
consisting of or isolated from plants (e.g. phytosterols) and food ingredients isolated from animals. Food and food ingredients obtained by traditional propagating or breeding practices with a history of safe food use do not come under the scope of the Regulation.
to which a production process not currently used has been applied where that process gives rise to significant changes in the composition or structure of the foods or food ingredients which affect their nutritional value, metabolism or level of undesirable substances( e.g. enzymatic conversion methods).
In case of doubt the European Commission can ask the competent standing committee of the Member States to establish whether a food or a food ingredient is to be deemed to be novel within the intendment of the Regulation.
The "Novel Food" working group with experts from the competent authorities and food control bodies, which is regularly convened by the European Commission, examines - amongst other things - whether foods/food ingredients are to be classified as novel. The results of their discussions are collected in the Novel Food Catalogue. Since June 2008 this catalogue has been published on the website of the European Commission. A link to the Novel Food Catalogue is given at the bottom of this page under "External Links".
With effect from 7 November foods and food ingredients containing genetically modified organisms (GMOs) (e.g. yoghurt with genetically modified live cultures) which consist of GMOs (genetically modified vegetable maize) or are produced from but no longer contain GMOs (e.g. puree made from genetically modified tomatoes, oil made from genetically modified rapeseed) no longer come under the scope of the Novel Foods Regulation but are governed by the following regulations applicable from 18 April 2004
Regulation (EC) No 1829/2003 on genetically modified food and feed
and
Regulation (EC) No 1830/2003 concerning the traceability and labelling of genetically modified organisms and the traceability of food and feed products produced from genetically modified organisms and amending Directive 2001/18/EC.
The provisions in the Novel Foods Regulation concerning GMOs were deleted (Article 1 para 2 letters a) and b), Article 3 para 2 sub-para 2 and para 3, Article 8 para 1 letter d) and Article 9) or revised (Article 3 para 4 sentence 1).
Genetically modified foods and food ingredients placed lawfully on the market in accordance with the Novel Foods Regulation or Directive 90/220/EEC continue to be marketable (cf. genetically modified food) if the responsible companies informed the European Commission by 18 October 2004 of the date when the product was placed on the market for the first time and submitted information on safety assessment and labelling as well as a suitable method for detecting the product.
Furthermore, additives, flavourings and extraction solutions are not covered by the scope of the Novel Foods Regulation either. Other legal provisions of the EU apply to them to the extent that they comply with the safety level stipulated in the Novel Foods Regulation.