You are here:
BfR Risk Profile
BfR Risk Profile
The BfR prepares health assessments for the areas of food, consumer products and chemicals. These scientific opinions are published on the BfR website along with an easily understandable lead paragraph. As a new service, the results of selected opinions have been summarised graphically in a BfR risk profile since January 2013.
Opinions with a BfR risk profile
In future, the BfR risk profile will be integrated into all suitable opinions newly published by the BfR in the internet.
Important note
Every BfR profile is to be accompanied by an important note: The risk profile is intended to visualise the risk described in the BfR opinion. It is not intended to compare risks. The risk profile should only be read in conjunction with the opinion.
General description of a BfR risk profile
The clear and concise conveyance of a set of facts is the main focus of a BfR risk profile. With the risk profile, the readers can quickly recognise the circumstances and main characteristics of the risk assessed in the BfR opinion. The chart is structured as a table containing the five characteristics (see example in the illustration):
Affected groups of persons
The probability of impaired health in the event of exposure
The severity of impaired health in the event of exposure
The validity of the available data and
The possibilities for consumers to control the risk through such measures as avoidance or caution.
Each applicable risk characteristic is highlighted in dark blue.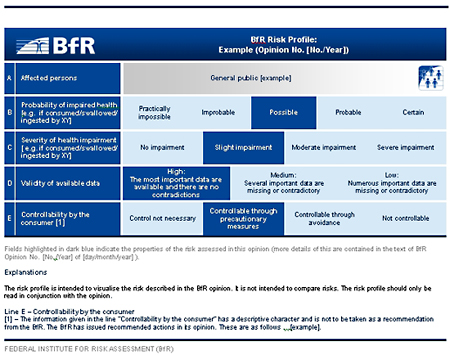 Goals of the BfR risk profile: transparency, comprehensibility, relevance
BfR risk profiles offer value added to all consumers and addressees of the BfR opinions. The graphic presentation of the risk characteristics increases the transparency of BfR risk assessments through standardised terminology, thus improving comprehensibility through standardised presentation.
The BfR issues recommendations on how consumers can protect themselves from risks. The information on how people can control health risks by themselves is of particular interest to consumers and to the BfR within the scope of its risk communication. A risk is often perceived by consumers as being more significant if they do not have any control over it. Information on the controllability of risks plays an important role in risk perception for this reason.
Development and evaluation of the BfR risk profile
The BfR risk profile was developed by the BfR in various internal and external test phases in cooperation with scientists from various disciplines. Risk profiles supplement BfR opinions and are based on the BfR Guideline for Health Assessments.
Risk profiles are evaluated constantly. The comments of all readers concerning the BfR risk profile are being collected and evaluated to begin with in a three-month pilot phase.