You are here:
Transport of dangerous goods
Transport of dangerous goods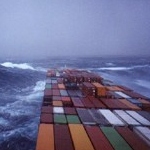 Dangerous chemicals, biological agents and materials are transported as hazardous substances by road, rail and water for the purposes of further processing or utilisation. This may lead to potential risks to health. Safe packaging, logistics concepts, traffic guidance, quality control and accident prevention strategies are all designed to reduce the threat to public safety.
The German Federal Institute for Risk Assessment (BfR) is one of the public authorities mentioned in the Act concerning the transport of dangerous goods as a safety agency. The Institute advises the Federal Ministry of Transport, Building and Urban Affairs when it comes to assessing the health risk from substances, hazard prevention and emergency measures. This also encompasses health risks on ships carrying dangerous goods as cargo. Responsibility for these tasks arises from the BfR remit pursuant to the Dangerous Goods Ordinance - Sea.
The transport of dangerous goods is mainly handled on the basis of international provisions. BfR helps to ensure that toxic and corrosive chemical products, biological agents and materials are correctly assessed and classified in these provisions. To this end, the BfR experts input their knowledge into international organisations and agencies.
In the field of sea shipping special work areas have emerged that also encompass protecting seas from pollution caused by the transport of dangerous goods by sea. This includes protecting beaches used for leisure activities and the purity of seafood as a foodstuff. BfR scientists participate in technical committees of the United Nations and the Federal Ministry for the Environment, Nature Conservation and Nuclear Safety. BfR advises the Federal Ministry of Food and Agriculture whenever risks to health arise in conjunction with fishing catches.
Contact: