You are here:
NRL Coagulase-positive Staphylococci
National Reference Laboratory for coagulase-positive Staphylococci incl. Staphylococcus aureus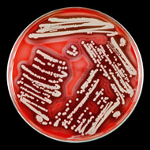 Staphylococci are non-spore forming, facultative anaerobic, gram-positive bacteria which occur naturally in humans and animals. Coagulase-positive staphylococci are important in regard to food hygiene because of their ability to form staphylococcal enterotoxins (SE) referred to as superantigens (SAgs) and enterotoxin-like SAgs (SE-like). The five classical toxin types (SE-A to -E) are the most important with regard to food poisoning.
The prerequisite for food poisoning to occur through coagulase-positive staphylococci is that the pathogens multiply sufficiently in the product and that heat-stable enterotoxins will be developed coincidentally by the pathogens. The dominant symptoms of a staphylococcal poisoning are vomiting, nausea, diarrhoea and circulatory symptoms. Extremely small amounts of toxin are sufficient to trigger these symptoms.
Focus of work and research at NRL
The work at the NRL focuses on questions regarding food safety and food hygiene with respect to staphylococcal enterotoxins preformed in food. An additional focus of the NRL is the issue of methicillin-resistant Staphylococcus aureus (MRSA) and the potential consumer exposure along the food chain. The NRL coordinates national and EU-wide monitoring programmes in this area and is responsible for typing and characterisation of strains.
The NRL is involved in research regarding food hygiene issues of staphylococci and the potential consumer exposure to MRSA along the food chain. Current research focuses on the following topics:
Development, establishment and validation of a new methods for the detection and differentiation of staphylococci and staphylococcal enterotoxins in foods
Pheno- and genotypic characterisation of MRSA isolated in the course of epidemiological studies in livestock and food
Development and validation of methods for quantitative detection of MRSA in food
Establishment of new methods for the isolation and genotyping of MRSA