You are here:
National Food Consumption Study
National Food Consumption Study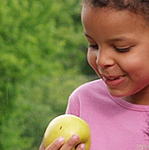 BfR has staff members on the User and Scientific Advisory Committee of the National Food Consumption Study II "What am I eating". They were involved in planning and designing the study. This study records the nutrition situation of adolescents and adults across Germany.
The National Food Consumption Study II is carried out on behalf of the Federal Ministry of Food and Agriculture (BMEL) by the Federal Research Centre for Nutrition and Food (BFEL). This representative survey, which runs from the end of 2005 to the end of 2006, aims to identify the food habits of the German population. The data from the last National Food Consumption Study are almost 20 years old. Since then the range of foods available and eating habits have changed.
The results of the National Food Consumption Study II are important for the risk assessment activities at BfR. When assessing food-related risks, it is necessary time and again to estimate the dietary intake of substances and micro organisms. Only when up-to-date and differentiated consumption data are available can the risks be realistically assessed. From the data in the study BfR can also identify specific risk groups or high risk eating patterns and then pass this information on to consumers. Once the data collection has been completed, BfR plans to process and evaluate them for its risk assessment activities and incorporate them into its daily activities.
Up-to-date food consumption data are important for BfR amongst other things for the approval procedures for pesticides, dietetic foods and additives.
Besides using the data for risk assessment, up-to-date data can also be used to estimate the intake status of the German population regarding vitamins, minerals and other important food ingredients. Important links between eating habits, health and social aspects can be examined and measures recommended in order to further improve the nutritional status of the German population.