You are here:
Nanotechnology
Health assessment of Nanotechnology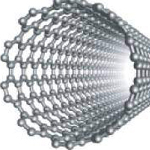 Nanotechnology is a generic term for a wide range of technologies in the nanometre scale which contribute towards the research, processing and production of structures and materials until they are ready for the market. With the help of nanotechnology, it is possible to develop structures, techniques and systems with completely new properties and functions. Thanks to current developments and those expected in the future in the field of nanotechnology and their use in all areas of life, increasing production quantities and thereby also the increased release of many different nanomaterials has to be assumed.
What are nanomaterials?
Nanomaterials are defined on the one hand as three types of nano-objects which are smaller than 100 nanometres (nm) in at least one of their dimensions:
Spherical structures (e.g. nanoparticles and fullerenes)
Fibrous structures (e.g. nanotubes)
Extremely thin layers (e.g. nano-platelets)
and as so-called nano-structured materials on the other (e.g. aggregates or compound materials which contain nano-objects of this kind) (ISO/TS 27687: 2008).
Nanoparticles can be introduced to the ambient air as ultrafine dust from natural or artificial combustion sources on the one hand (e.g. volcanic ash, cigarette ash, exhaust fumes) and can occur unintentionally in work and production processes (e.g. welding smoke).
On the other hand, nanomaterials are manufactured specifically for use in many technical areas, as well as in consumer products, such as paints and packaging materials as so-called ENM = Engineered Nanomaterials. Examples of engineered nanomaterials are nanosilver, carbon nanotubes, nano-titanium dioxide and so-called nanoclay, which are already processed in many different consumer products (cosmetics, textiles, packaging and compound materials).
During the engineering of nanomaterials, use is made of the surface-to-volume ratio which is favourable in these tiny dimensions and which gives materials of this kind special or new properties. The trend in manufacturing is moving away from a top-down approach (e.g. pulverising a base material with fine particles) towards a bottom-up strategy which permits, for example, the synthetic manufacture or assembly of nano-hybrids with desired properties and characteristics.
These new properties can in principle have negative effects on human health if released particles can enter the body, distribute themselves very finely and accumulate in various organs.
Risk assessment
The object of scientific risk assessment at the BfR is engineered nanomaterials. Whether or not unknown risks for the consumer can emanate from these new nanomaterials or products containing them has not yet been fully clarified from a scientific point of view. When assessing the risks, the hazardous properties must be observed on the one hand and actual exposure on the other. This means that risks could emanate in particular from nanoproducts containing dangerous nanomaterials in unbonded form, or from products from which they can be easily released.
Reasons which suggest that nanomaterials could conceal risks:
The special (physical-chemical) properties of a nanomaterial, e.g. large, highly reactive (reaction-promoting) surfaces
Special behaviour inside the body, e.g. a long retention time and the overcoming of natural biological barriers
The increased contamination that is to be expected by their release.
The BfR is involved in the risk assessment of nanotechnological applications in many different consumer-related areas, such as chemicals, food and their packagings, cosmetic products, requisites, as well as pesticides and biocides.
Dialogue and research activities on nanotechnology
In recent years, the BfR has strongly supported the discussion of the possible risks of nanotechnology and nanomaterials in the field of consumer protection. A number of dialogue and research activities have been initiated, including:
The BfR is also represented on several national, European and international committees dedicated to this topic, such as the OECD Working Party on Manufactured Nanomaterials (WPMN) and the EFSA Scientific Network for Risk Assessment of Nanotechnologies in Food and Feed.
---