You are here:
Biological Safety
Biological Safety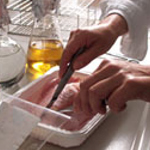 Micro-organisms can occur everywhere: in and on foods, feedstuffs, cosmetics and consumer products like dinnerware, cutlery or toys. The task of the BfR Biological Safety unit is to identify them and protect consumers from food infections and intoxications.
Microbiological risk assessment
One focus of microbiological risk assessment is the identification of the main pathogens responsible for food intoxications - like Salmonella or coli bacteria - as well as the most frequently affected foods. Here, it must be borne in mind that micro-organisms - in contrast to chemical substances - do not always behave in the same but in varying ways:
They can multiply or perish.
They can migrate from one food to others ("cross-contamination").
They can form toxins.
They can change their properties like their virulence for man or their antibiotic resistance.
Microbiological risk assessment reflects the dynamics of the pathogens in foods and the varying sensitivity of certain groups in the population like infants, pregnant women, older people and the sick.
"Farm to fork"
The safety of a food can be influenced as it passes along the entire production and distribution chain - from the farm to the consumer. In its risk assessment BfR, therefore, draws on the "farm to fork concept" which examines all components of the food chain from the angle of their microbiological risk potential:
the food-producing animals,
arable land and feedstuffs,
food collection (e.g. milking, slaughter),
processing and storage.
International surveillance programme
In cooperation with the World Health Organisation (WHO), BfR runs a surveillance programme for the biological safety of food. The programme identifies the spread and frequency of food infections and intoxications in Europe. It records:
outbreak data,
pathogens,
sources of infection.
The surveillance programme provides an overview of the foods responsible for the infections and intoxications of consumers.
Research into greater microbiological safety
In research projects BfR helps to close the existing knowledge gaps in the field of biological safety and to reduce the risk of food infections and intoxications. Modern microbiological and molecular biological methods help to more exactly determine the pathogens, their special properties and the toxins formed by them.
National reference laboratories
Various reference laboratories are attached to BfR. Their research, control and testing activities make an important contribution to achieving greater biological safety in foods.