You are here:
Tasks of the NRL Monitoring Bacteriological and Viral Contamination of Bivalve Molluscs
Tasks of the NRL for Monitoring Bacteriological and Viral Contamination of Bivalve Molluscs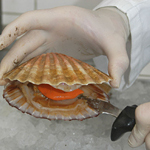 The tasks of the National Reference Laboratory for Monitoring Bacteriological and Viral in Bivalve Molluscs include
Co-ordination of the activities of the laboratories which are responsible in Germany for bacteriological and virological shellfish analyses (mainly control bodies but also laboratories involved in controls)
Support for the competent food control authorities in shaping the control system in the field of bacterial and viral shellfish contamination
Performance of regular comparative tests between the various laboratories which have been commissioned with these analyses and
Passing on information from the European Community Reference Laboratory (The Centre for Environment, Fisheries & Aquaculture Science, Weymouth, Dorset, United Kingdom), to the competent German authorities and the national laboratories commissioned with the above analyses.
The tests mainly involve hygiene control of shellfish harvesting areas. These controls are designed to determine the germ content of the live mussels from these areas (mussels, oysters, etc.) and to examine them for pathogens. The results of these controls decide whether the mussels can be released for consumption or protective steps have to be taken.
Furthermore, certain live shellfish intended for consumption will also undergo random sampling within the framework of imports or at points of sale.