You are here:
NRL Mycotoxins
National Reference Laboratory for Mycotoxins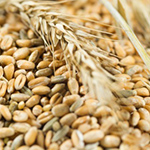 Mycotoxins (mould toxins) are secondary metabolites formed by mould.
Mycotoxins can be formed while the crops are still in the field or only when food or feed is in storage. As a result, their occurrence in cereals, fruit, vegetables, nuts, cocoa, coffee, spices and products made from the foregoing has been widely described in the literature.
Health risks from mycotoxins
Even when present in only small amounts, mycotoxins can cause acute poisoning - or, in the case of long-term intake, chronic damage to health - in humans and animals. Mycotoxins are mainly ingested with food. In the case of feed, it must additionally be taken into account that any mycotoxins the feed contains may be transferred to foods of animal origin. Due to their toxicological properties, the presence of mycotoxins in food and feed is undesirable and is therefore a particular focal point of risk assessment. The most well-known types of mycotoxins are:
Aflatoxins
Ochratoxins
Trichothecenes
Fumonisins
Zearalenones
Patulin
Citrinin
Ergot alkaloids
Alternaria toxins
Main work areas of the National Reference Laboratory for Mycotoxins
In the interests of consumer health protection, it is essential that foodborne and feedborne exposure of humans and animals to mycotoxins is kept as low as possible. This underlines the importance of the official feed and food controlling activities that are supported by the establishment of National Reference Laboratories (NRLs) in the member states of the European Union.
The NRLs report to Community reference laboratories of the EU (EURLs), who work together with the national reference laboratories and promote cooperation between the NRLs in the member states in their respective fields of competence.
The tasks of the National Reference Laboratory for Mycotoxins include:
Cooperation with the competent Community reference laboratory
Forwarding of information from the Community reference laboratory of the EU to the competent German authorities and the national laboratories tasked with performing the aforementioned tests
Coordination of the activities of the laboratories in Germany tasked with performing the tests (primarily within the context of official feed and food controlling)
Support for the competent food and feed controlling authorities in the organisation of the monitoring system
Development and validation of analysis methods
Where applicable, performance of regular comparison tests between the various laboratories tasked with the aforementioned tests in order to maintain and promote a high quality of controlling operations
The legal basis for official control and for the NRLs is provided by Regulation (EC) No. 882/2004 of the European Parliament and the Council dated 29 April 2004 on official controls performed to ensure the verification of compliance with food and feed law, animal health and animal welfare rules.
The National Reference Laboratory for Mycotoxins is attached to the "Residues" Unit of the "Safety in the Food Chain" Department at the BfR.