Databases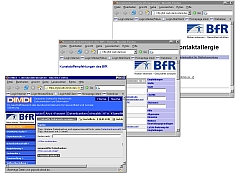 BfR (formerly BgVV) scientists have set up important databases on the national and international levels for different areas. These databases are managed by DIMDI and BLE. In some cases, they can be freely accessed there over the Internet. The databases, which are listed below, have a joint home page at DIMDI (recommended for first-time users: Explanations on using these databases in the help and information function on that homepage).
International Chemical Safety Cards (ICSC)
Food Monitoring
Centre for Documentation and Evaluation of Alternatives to Animal Experiments (AnimAlt-ZEBET)
From October 2002 the IMEX (Import and Export) Database will be available with up-to-date lists of plants and trawlers authorised by the veterinary and food control authorities.
On this homepage the BfR also publishes the "Official analytical methods for residues of plant protection products and pesticides in foods" according to § 35 LMBG (Foods and Other Commodities Act) as a collection of PDF files in German.
As for the very comprehensive glossary of risk analysis terms, it is not so much a database, more an extensive collection of terms (see below). This BfR glossary can serve as a tool for improved understanding and more efficient participation in the international discussion of substance and product risks.