You are here:
Research and validation
Research and validation
Development of semantic search technologies
Together with scientists of the Technical University Dresden, Dresden-based Transinsight GmbH and BASF SE, Ludwigshafen, scientists of ZEBET are developing the world's first knowledge-based search engine for alternative methods to animal experiments with support from the Federal Ministry of Research. In April 2008 the beta version of the semantic search engine "Go3R", which is available free of charge to internet users, went live under www.Go3R.org.
Special feature of the search engine Go3R
The search engine Go3R makes proposals in respect of a certain search term with which the search can be further refined. If a user is, for instance, looking for publications on "eye irritation" Go3R offers the following result categories: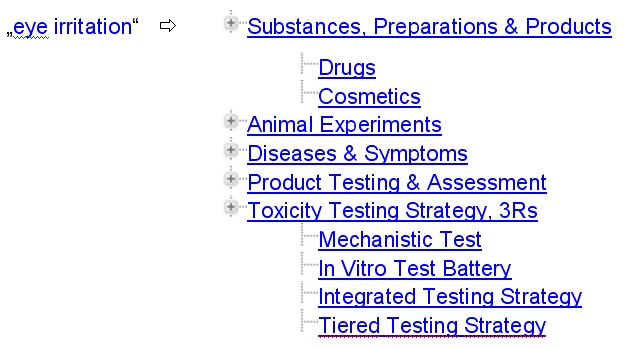 If the user decides, for instance, in favour of the category "Toxicity Testing Strategy, 3Rs" and restricts his search by clicking on the sub category, "In Vitro Test Battery", he can restrict a large amount of search results with a few clicks to the most relevant aspects using Go3R.
Benefits of the semantic search engine Go3R
Unlike the usual search engines, Go3R identifies, as a semantic search engine, the relationships between the terms and establishes a link to other important term categories. In these categories the searcher can then continue to search in a selective manner. In addition, the search engine also works with synonyms and natural language. For successful searching it is, therefore, no longer necessary to enter the precise keyword. If a user looks for "eye irritation", the engine searches automatically for "eye tolerance", too. The search results using Go3R are hence more comprehensive than the results of conventional search engines.
Literatur
1. Seiler, A., Visan, A., Buesen, R., Genschow, E., and Spielmann, H. Improvement of an in vitro stem cell assay for developmental toxicity: the use of molecular endpoints in the embryonic stem cell test. Reprod. Toxicol. 18, 231-240 (2004).
2. Seiler A., Buesen R., Visan A., and Spielmann, H. Use of murine embryonic stem cells in embryotoxicity assays: the embryonic stem cell test. Meth. Mol. Biol. 329, 371-395 (2006).
3. Buesen R., Genschow, E., Slawik, B., Visan, a., Speilmann, H., Luch, a., and Seiler, A. Embryonic stem cell test (EST) remastered: Comparison between the validated EST and the new molecular FACS-EST for assessing developmental toxicity in vitro. Toxicol. Sci. 108, 389-400 (2009).
4. Groebe, K., Hayess, K., Klemm-Manns, M., Schwall, G., Wozny, W., Steemans, M., Peters, A.K., Sastri, C., Jaeckel, P., Stegmann, W., Zengerling, H., Schöpf, R., Poznanovic, S., Stummann, T.C., Seiler, A., Spielmann, H., Schrattenholz, A., Unexpected common mechanistic pathways for embryotoxicity of warfarin and lovastatin. Reproductive Toxicology 30, 121–130 (2010).
5. Schenk, B., Weimer, M., Bremer, S., van der Burg, B., Cortvrindt, R., Freyberger, A., Lazzari, G., Pellizzer, C., Piersma, A., Schäfer, W.R., Seiler, A., Witters, H., Schwarz, M. The ReProTect Feasibility Study, a novel comprehensive in vitro approach to detect reproductive toxicants. Reproductive Toxicology 30, 200–218 (2010).
6. Riebeling, C., Pirow, R., Becker, K., Buesen, R., Eikel, D., Kaltenhaeuser, J., Meyer, F., Nau, H., Slawik, B., Visan, A., Volland, J., Spielmann, H., Luch, A, Seiler, A. Evaluation of structure-activity relationships in the teratogenicity of valproic acid derivatives using the embryonic stem cell test. Toxicol. Sci. [Epub ahead of print], (2011).
7. Karlfried Groebe, Katrin Hayess, Martina Klemm, Gerhard P Schwall, Woijciech Wozny, Margino Steemans, Annelieke K Peters, Chaturvedala Sastri, Petra Jaeckel, Werner Stegmann, Helmut Zengerling, Rainer Schoepf, Tina C Stummann, Andrea Seiler, Horst Spielmann, and Andre Schrattenholz. Protein biomarkers for in vitro testing of embryotoxicity. J. Proteome Res., Accepted Manuscript
8. Crofton, K.M., Mundy, W.R., Lein, P.J., Rice-Bal., A., Coecke ,S., Seiler, A., Knaut, H., Buzanska, L., Goldberg, A. Recommenrdations for developing alternative test methods for screening and prioritization of chemicals for developmental neurotoxicity. ALTEX, Accepted Manuscript