Pesticides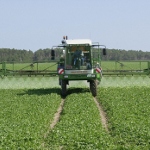 Pesticides are "substances" which are intended
to protect plants or plant products against all harmful organisms,
to protect plants or plant products against animals, plants or micro-organisms which are not harmful organisms,
to influence the life processes of plants, other than as a nutrient (growth regulators),
to inhibit the germination of plant products,..."
(§ 2 passage 9 of the Act for the Protection of Crop Plants (Plant Protection Act - PflSchG))
In Germany, the use of pesticides is regulated by the Act for the Protection of Crop Plants (Plant Protection Act - PflSchG) and the corresponding ordinances.
Pesticides must be authorised and this is done by the Federal Institute for Consumer Protection and Food Safety (Bundesamt für Verbraucherschutz und Lebensmittelsicherheit).
The Federal Institute for Risk Assessment (BfR) is responsible for assessing the health risk from pesticides and its consent must be sought for their authorisation. This assessment is one of the foundations for the setting of maximum levels for residues from plant protection products which may be contained in foods. At the same time, the health assessment also helps to lay down safety measures when handling plant protection plants.
Pesticides can be divided into three groups:
herbicides
Insecticides
fungicides