Health assessment of Cosmetics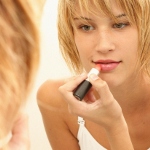 Products which come into contact with human skin must be non-hazardous to health. BfR assesses the risks of cosmetics with the support of the Cosmetics Committee – from the lipstick to the tooth bleaching agent.
Skin cream, toothpaste, hair shampoo – for BfR, cosmetics not only encompass decorative cosmetics such as lipsticks or make up, but also all substances and preparations which are exclusively or predominantly intended to be applied externally or in the oral cavity of the human body. This also includes suntan lotions, soaps and other detergents. Their common feature is that they serve the purposes of cleaning, protecting, keeping in good condition, perfuming or changing the appearance. Health safety for consumers of cosmetics is a top priority for BfR.
Authorisation and notification
Cosmetics do not require authorisation. Only certain ingredients and additives like preservatives, colorants or UV filters have to be authorised.
At any rate manufacturers of cosmetics must guarantee that their products are not hazardous through safety assessments.
Prior to marketing, the formulations must be notified to the Federal Office of Consumer Protection and Food Safety (BVL). Manufacturers or importers can contact BVL in this respect on.
Assessment by the Cosmetics Committee
If required, BfR assesses cosmetic ingredients with regard to their health safety. It is supported by the scientific Cosmetics Committee, within BfR.
The assessments include, amongst others, fragrances, hair dyes, tooth bleaching agents and sunscreen agents as well as mouth washes.
Advice
BfR advises the Federal Ministry of Food, Agriculture and Consumer Protection on the health risk assessment of cosmetics.
Legal bases
Food, consumer articles and feed act
German equipment and product safety act
Cosmetics ordinance